I'm in love with the pho bowl. Sriracha sauce! We got Sriracha sauce!
It's certainly no secret how much I absolutely love pho, a Vietnamese noodle soup consisting of broth, linguine-shaped rice noodles called bánh phở, a few herbs, and meat, primarily served with either beef or chicken.
That said, when traveling I always check menu prices before going to make sure I am not going to pay extra for a dish, but on day one of my visit, I almost always choose this perfect dish. And here I am, sharing some of the greatest pho spots in all the world. Keep in mind I have miles to go before I've eaten at them all.
In no particular order:
1. Los Angeles: Pho 21. 721 Western Ave. The bowls are the perfect size, they give you all the limes you need, and the evening staff knows me by name, and they're open til 3am every morning.
2. Montreal: Pho Saigon Vietnam. 1053 Boul St.-Laurent. The staff is absolutely amazing and friendly, there are three bowl sizes waiting for your appetite, and there is an endless pot of delicious green tea. Oh! And they give you chocolate fortune cookies at the end.
3. London: Song Que. 134 Kingsland Road. I was hesitant on listing London because I don't much agree with how their sriracha sauce is weaker than I'm used to (it's even a little more pink), but this place is really good with or without the sriracha.
4. Atlanta: Pho Bac. 4897 Buford Highway. How surprised was I when I found one of the best pho bowls in life in Atlanta? Very! Who knew the Vietnamese even went to Atlanta? Why? Well, whatever the reason, I hope the owners of this place stay so I can keep going back when I visit.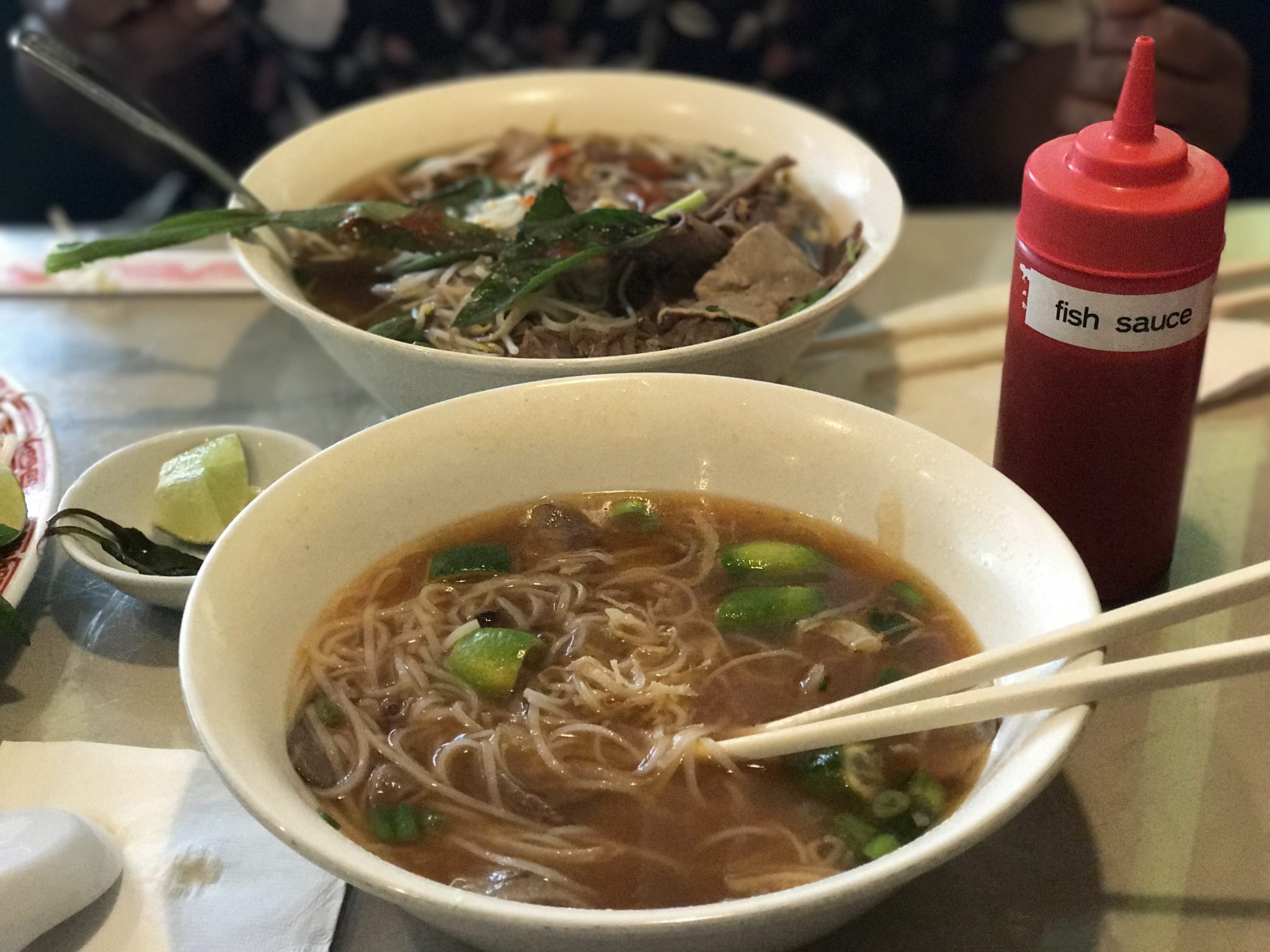 5. Seattle: Pho An. 12526 Lake City Way NE. Seattle has an abundance of Pho restaurants, and I've tried almost half of them, and this is my favorite, and I'm certain it will always be my favorite in the city til the end of time.
6. Barcelona: Bun Bo Vietnam. Calle Sagristans, 3. A huge, needed change of pace after roaming the endless streets and alleys of Barcelona. Something in the taste was slightly different, but it was a good different. Most customers are travelers as well, so this place also gives you the opportunity to connect with folks who may have great tips for you on your visit.
7. Paris: Song Heng. 3 Rue Volta. I'm just a customer in a long line of overly satisfied customers. This place is freaking fantastic. The ambience, the service, and of course the food. And you're in Paris, if you like that part. I'd certainly support their decision to compete in a best pho competition.
8. Rio de Janeiro. Mekong. Rua General Urquiza, 188. I'm typically skeptical of fusion restaurants because I feel like their focus is too broad, but this bowl was amazing!
9. New York City. Nom Son. 245 Grand St. The afternoon after the infamous reunions hosted in NYC by my brother, Malcolm Jones, a few of use would head over to this no-frills spot and grab a big bowl and debrief. Perfect conversation over a perfect bowl after a perfect night! Win!
10. Washington, DC. Pho Viet. 3513 14th St. NW. Most DC people haven't gotten into the Pho movement I've been attempting to push on them for the last 8 years, but I'm hoping this year they will. And this has to be the place they check out! A great alternative to a boozy Sunday brunch! Especially after a crazy Saturday night.
11. Tamarac (Fort Lauderdale), FL. Pho Hao. 5435 N State Rd 7 Tamarac, FL 33319. This unassuming spot in South Florida may be the greatest makers of Pho I've come across. The broth is undeniably perfect and everything else is just…well…GOOD. Ask Funmilayo!
12. Redford (Detroit), MI. 23838 Joy Rd. Redford, MI. On a solo lunch mission, I wandered into this spot, noticed the wall of photos highlighting the winners and losers of the Large Bowl Challenge, and immediately knew I was home. Food challenges, though I never entered one, are attractive to me. When my bowl arrived, I knew I was in heaven! Sadly, I had no one around to share my excitement with.
13. Phoenix, AZ. Pho 43. 2844 N 43rd Ave, Phoenix, AZ 85009. YO! Hands down, this is the best place on this list as of today (November 19, 2018). They close early, there's usually a line, the venue is small-ish, but it's so damn good. In fact, I'd drive the 6 hours it takes to get there from Los Angeles just to have another bowl. GO! Now! Thanks, Timmy D.
A few things to note: Carry cash, expect slow service but rejoice if it's fast, and if you don't know what an ingredient is on the menu, ask! Then enjoy!
Want me to check out your amazing pho restaurant? Send me the address, and I'd be happy to do so. Join me on my mission to eat at them all. There is always room at my table.