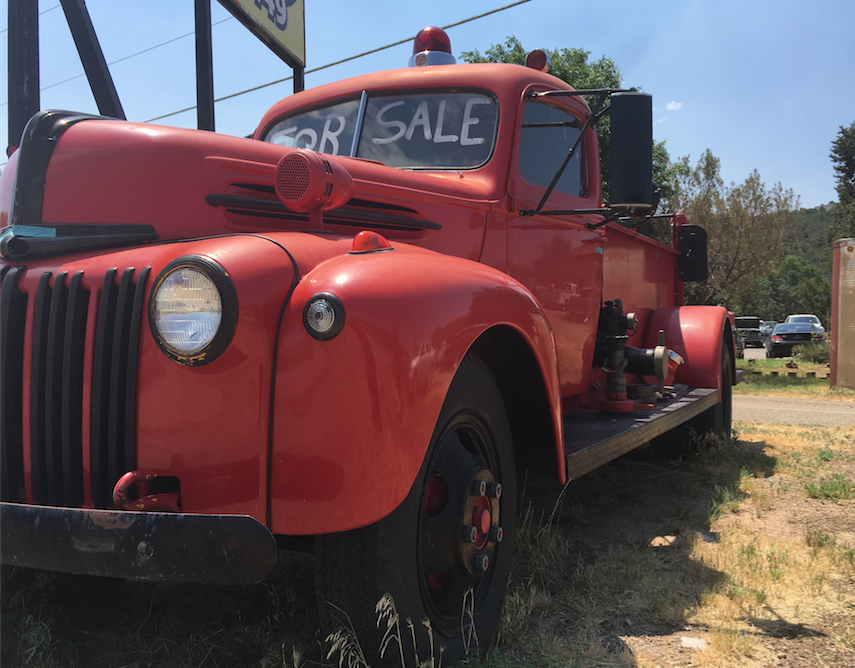 The Best Roadtrip: It Started With A Breakdown.
Let me preface this by saying, I am a road trip veteran. As a child, I dreamed of wild adventures and admired the likes of Carmen Sandiego, Bessie Coleman, Amelia Earhart, and Harriet the Spy. Flights were few-and-far-between, but road trips were my primary method of travel growing up. Every year, my grandparents would make the drive from Texas to Jacksonville Florida to visit old friends and relatives from Jamaica. Sometimes we would take the drive and stay at a universal studios hotel as we all loved to go to Universal Studios.  Every few months we ended up hauling my mother's youngest sister from one state to another, as she was the family nomad. If you love spending holidays on a relaxing beach as much as I do you need to learn about weather in jacksonville beach.
Whether you're planning a weekend getaway, family vacation or even a roadtrip to the coast, Jacksonville's 22 miles of wide, uncrowded beaches offer the right combination of beachside restaurants, nightlife hotspots, kitschy souvenir shops and oceanfront hotels sure to satisfy the needs of any traveler.
On-street parking also is available, and public lots can be found at the Jacksonville Beach Pier along with public restrooms at the ends of Fifth and Seventh avenues. These are great places to make your home base if you want to grab a quick, outdoor shower and change in the privacy of a bathroom before going out to dinner or driving home.
No matter if you're on dawn patrol, hitting the surf bright and early, or arriving leisurely at mid-morning or early afternoon for the best sun of the day, you'll probably be hungry. Good thing there's tons of eats on Jacksonville's beaches.
Start the day off by grabbing some grub at Beaches Town Center, a swanky shopping district marking the division between Neptune and Atlantic Beach. You won't want to miss Lillie's Coffee Bar where hot-pressed paninis, fresh salads and tasty breakfasts are served in a shaded and relaxing courtyard. Here you can find hipster and bohemian locals browsing the boutiques while sipping iced coffee.
When I finally was able to drive, I took off like a bat out of hell. Driving anywhere and everywhere, I could think of in my rickety Honda Civic. Naturally, when I decided to head from Greenville, TX to Salvation Mountain in California, I wasn't worried about the drive. I had a new car and it was the perfect excuse to break it in. I called my trusty road trip partner (hey, mom!) and after some persuasive words and promises to be back in time, I devised a quick plan to drive to California and back in three days. I am the first to admit that I am an Olympic level procrastinator and since I am a self-described road trip veteran, driving to Cali would be a sneeze. Clearly, I played myself *DJ Khaled voice*. I could not predict the series of events that would greet us on the way back home. If you are planning a holiday with a group of friends then perhaps a 9 seater car hire would be ideal. There is enough space for everyone plus their luggage, and you get to travel together. The best way for you to take while performing canvasses online is to be able to talk to a variety of agents face to face and get only what you need. Do not neglect to re-evaluate your policy before settling for the final one. After all, with a automobile agent beside, you have all the capacity to assess your own insurance moto needs.
The moto scooter has been in use since the early 1900's. Like everything else, it has evolved with time. Today?s version goes faster, run longer on less fuel and produces less emissions than those of the yesteryear. In recent years, especially, it has regained popularity among people of all driving ages due to increasing fuel prices. There are many advantages to choosing this as your method of transportation. Today's moto scooter comes in every color imaginable. It offers options that our grandfathers would have never dreamed of seeing on a vehicle, such as an MP3 player and an electric start system. There are a number of engine sizes and different bikes top out at different speeds. This two-wheeled machine leaves a lot of open decisions if you are considering a purchase.
About half of the accidents involving a single motorcycle are caused by speeding. Because motorcycles don't provide much protection to the rider, crashes involving speeding are much more likely to result in death or serious injury.
Here are some things to chew on; Think about what you want the moto scooter for. Are you looking for something to have fun with, or will this be your main mode of transportation? Do you want to buy brand new, or will used suffice? Are you concerned with options and colors, or are you looking for a functioning vehicle to get you from point A to point B without concern over character and design? What is your price range? Are you sure that range is realistic and affordable for you?
Start by answering those questions and then you can start looking for your bike. There are many classified services online if you are looking for used. If you are opting for new, check online first as some retailers offer special financing packages for online purchasers. You can also check your local paper, car dealer and impound auction. You never know where you will find a great deal!
I took a quick nap after work that Friday, headed North that evening to scoop my mom, and then headed west. Everything went perfectly! We saw Salvation Mountain and even had time to sneak in the quick drive to Las Vegas to see the 7 Magic Mountains Installation. That same night in Vegas we were able to club crawl and have a great time. 
 After a detour to pass the Hoover Dam, we were right on schedule to make it back to Texas by day 3 that is until we made it to New Mexico. This trip took place in June, so to say it was sweltering was an understatement.  It was hotter than Satan's you-know-what, but we pressed on. About 20 miles outside of Albuquerque was where it all went to crap. Now since we chose my new vehicle as our adventure vessel, it was only right that I did 90 percent of the driving. I finally relented after an oncoming bout of "the itis" and asked my mother to drive. Not more than 10 minutes after she pulled onto the highway did I receive a nudge and a semi-panicked, "Ashley your car is making a weird noise!" I drowsily replied, "Pull over" and immediately saw the neon orange "Check Engine" light illuminated.  The car must be overheated. I remained cool on the outside, but I was seriously freaked out. This is by far the worst-case scenario. To add insult to injury my ego was definitely bruised considering this is the first car I'd purchased on my own, and I was feeling pretty certain that I came with a quality vehicle for a fair price.  We cranked it and nothing happened. A second crank–and still nothing. After a third crank, the engine of my car sang it's sweet, off-key swan song and unceremoniously croaked.
And there we sat–windows down, doors open in the middle of the New Mexico heat in a dead Ford on the side of the highway.  I called my insurance to inquire about my coverage because naturally, I knew nothing. We called a tow truck, but there was just one minor problem.  is a commercial truck insurance company specializing in insuring independent owner-operators and small fleets. www.truckinsurancecomparison.co.uk/ is a commercial truck insurance company specializing in insuring independent owner-operators and small fleets, you can contact them today!. Most people were not open as it was a Sunday, and we didn't exactly know where we were. Did I mention my phone was about to die? The trifecta of road trip fuckery continued.  And here dear reader is where I offer you a road trip tip: do as I say, not as I do ☺ PAY ATTENTION TO THE MILE MARKERS. While on hold with the third tow truck company, I began to march my way down the shoulder making a path between high dead grass and a makeshift fence until I spotted a mile marker. $200 and one hour later, Frida, my car, and my mother and I, were being scooped up by a rotund, bearded man and dropped off at the nearest mechanic's station in the mountains of New Mexico in a village called Tijeras. At the top of the hill sat the garage and the band of mechanics that greeted us left my mother and me a little on edge. Each man was covered in a hodgepodge of tattoos, grease, and dirt. We all looked at each other, clearly wondering what twist of faith allowed us to cross paths.
By now, the sun was setting and we were scrambling to figure out what was wrong with the car. More importantly, where are we going to sleep? After some back and forth regarding the car, the shop owner's wife offered us a ride into town. We stepped into the old Land Cruiser that smelled of tobacco, was littered with an assortment of snack bags and crumbs, and rode the 20 minutes to the edge of Albuquerque to the local budget motels. After the day's ordeal, the cheap polyester comforters never seemed more inviting.  For two nights, we sat around in the dingy motel, only stepping out to search for food and to stretch our legs.  After two days, I received a call from Jake, our mechanic, stating a faulty wire was the culprit and my car would be fixed by that Tuesday afternoon.
Tuesday morning came and we were scooped up by another mechanic in an old Honda coupe. His ruddy complexion was enhanced by the colorful tattoos that adorned his forearms and he was surprisingly pleasant for so early in the morning. You don't normally associate Southern Hospitality with New Mexico but we definitely experienced it.  We spent an hour or so in the shop chatting with the owner and the mechanics that were not working on my car. We learned more about their passion for restoring old cars and how they all came to work there.
I must admit that I definitely judged them when I first arrived. The open-mindedness and eagerness to learn about the people that I encountered when traveling out of the country took a back seat to my notion that I knew exactly what these men were like, assuming this because they are American. I can definitely say I was more than pleasantly surprised and thanked everyone for their time, and headed back east to Texas. I'd say with the current state of affairs in our country and the stress that many POCs deal with in their day-to-day life, it was very refreshing to know there are still people willing to help you. Danger is out there but for the most part people are good. The garage staff certainly did not have to take their personal time to drive us there and back, or help us get set up in a motel. They could have severely overcharged us, but they did not. I've taken many road trips in my short life, but this is by far the most memorable.