I landed in Dubai 8 full days earlier than my best friend. It was the holiday season and Turkish Airlines reduced the number of direct flights to Dubai by over 70%, leaving me frustrated and nervous, but determined. This was my first Thanksgiving without family and if I waited until the next available flight, I would miss everything – my Friendsgiving celebration, the festivities, and the chance to spend my birthday in Dubai. I took the chance and flew in 8 days early.
Connecting to WiFi as soon as I landed in Dubai's International Airport, I sent a mass text asking my friends to help me find somewhere to stay. They searched high and low for last minute Airbnb's that weren't outrageously priced or gross and I quickly decided on a condo over the marina. I was ready! Once I got my bags, I walked outside and managed to I jumped in the cab and rolled down my windows. "This is Dubai," I told myself over and over. My cab driver, Mark, sensing my excitement, asked me if it was my first time in Dubai. I screamed "Yes," looking forward to my solo days exploring this new city. He studied me in the mirror, and asked me if I was from Kenya. I laughed and told him no, I was from the US, by way of Jamaica. He laughed and told me I reminded him of the beautiful Kenyan women in his country, with my high cheekbones and almond shaped eyes. I felt flattered. At that point, I had not been to Kenya yet, but it was on my list. I told him that because he was from Kenya, I was going to visit sooner rather than later. And I did.
Mark asked about my plans in Dubai – how long would I be here, what I would be doing, etc. I had apprehension about telling him I was alone, so I told him I would be waiting for my friends (including my boyfriend) to fly in. But that wasn't the complete truth. He told me that he had only been living in Dubai for a year, but since it was my first time, he felt obligated to show me all that he knew. I was excited about the opportunity to have a personal driver these next couple of days, but Dubai was expensive. I asked him about the price for giving me a tour and he said we would work it out. Mark was a personal trainer and had moved to Dubai to find high end clientele in order to send money back home to his family in Kenya, so I wanted to be fair.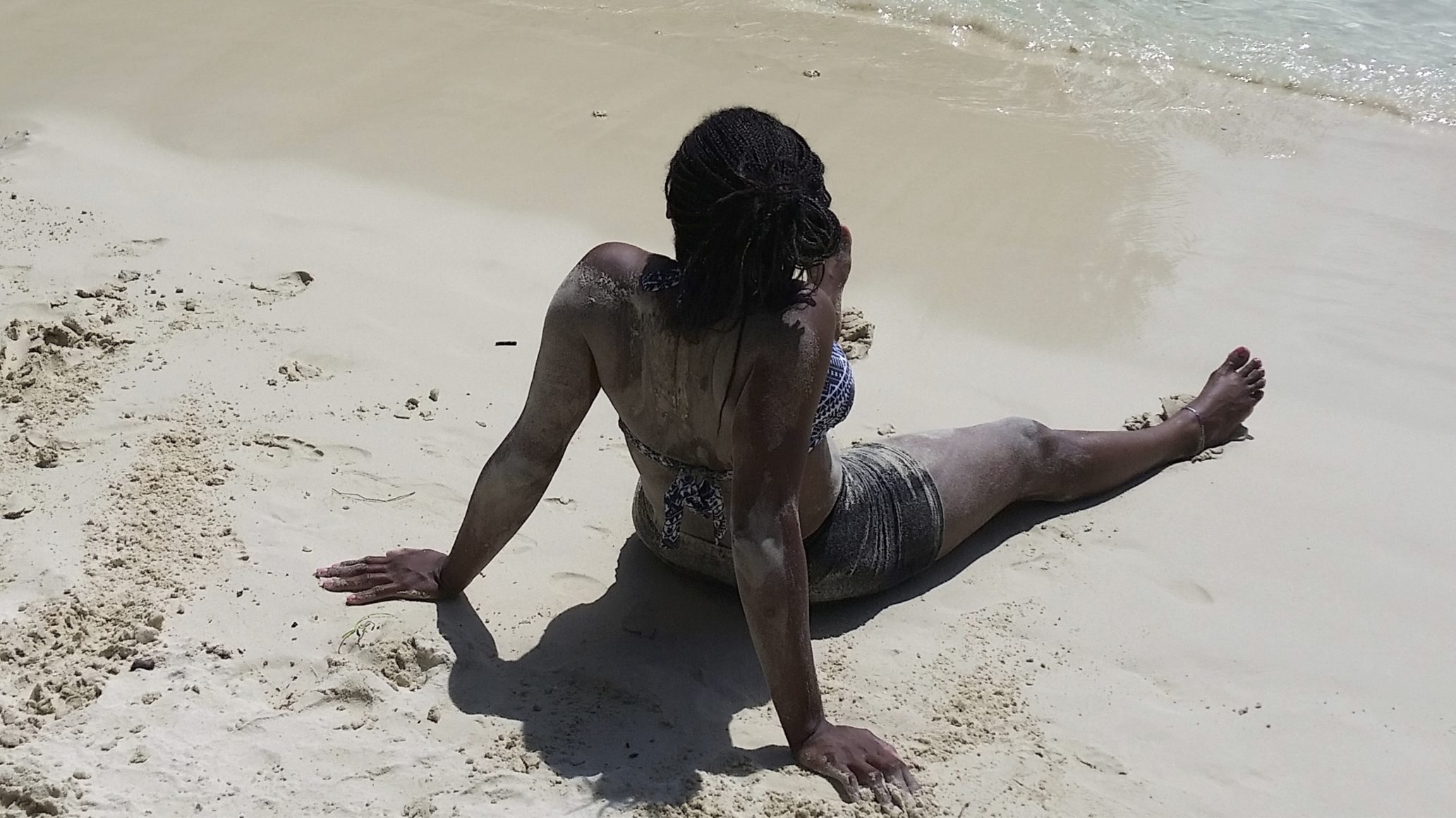 For the next 6 days, Mark was waiting outside of my Airbnb at 7:55 AM sharp. He would pick me up, we would find a breakfast/coffee shop and chat for a while, and then we would spend the next hour mapping out our plans for the day. For the first couple of days, he took me to all of the tourist attractions – the World Trade Center, the Burj Khalifa, the water park at Atlantis, the Fountain Show, etc. At each of these places, he acted more like a close friend than a travel guide. He would often ask when did my boyfriend and other friends plan to arrive, but we mainly focused on being lost in the moment. Within 2 hours on our first outing together, I was laughing until it felt like my belly would burst. Not only did Mark immediately become my personal photographer, he became my stylist, my swimming partner, my secret keeper, my taste tester, my private chef, and so much more. I don't think I've ever truly enjoyed the company of one person like this. When he dropped me off after midnight on that first night, I found myself not really wanting him to leave. I was exhausted, but there were so many other laughs I wanted to have, so many other jokes I wanted to tell. I ran to my condo awkwardly, anxiously awaiting the next day.
I wasn't sure it was possible, but the next day was even more fun than the first. Words can't really describe the peace and the joy that I have when I am with him, but I felt safe, serene, and indescribably happy. I never believed in love at first sight until I met this man, but I had my reservations. I had a whole life back home as he did. On night 7, he took me out to a special dinner on the beach. There were torches lit up everywhere on the sand and he had a spread of different foods laid out on a towel. We ate so much, drank wine, took in the smell of the water, and relaxed in tranquility. He called his mother in Kenya and told her that he met his wife. I promised her that I would see her soon. While Mark hinted at wanting to kiss me prior to this moment, I had never let him. On this day, it felt right.
When my friends finally arrived on day 8, I felt a twinge of guilt. They had all of these plans to explore these places and I had done it all while they were in the States. I made excuses to leave the group several times and went to hang out with Mark while he was working. This actually led to a confrontation between me and my best friend. She demanded to know where I was sneaking off to everyday. I simply told her I had learned about a couple of different places and didn't want to change the itinerary for the whole group. After celebrating my birthday, I spent the last day in the UAE wondering if I could ever live here. The feeling that I felt with Mark it was magical and I didn't want it to end. In fact, I was determined not to let it end.
Since this trip, we are trying to Find out how to get a fiance visa usa I've met up with Mark in various places – Greece, Indonesia, Paris, and to visit his mum in Kenya. I found love in the most unexpected of places. I found a person that was able to touch my heart and soul without the physical, and speak to the wild, adventurous spirit that is within me. But an abroad relationship (like any other) can be tricky. It can be a struggle to feel connected to someone during these long stretches of time, especially when you aren't traveling together. My advice is – if you find someone that sets your soul on fire, never let them go. Unless you have to.