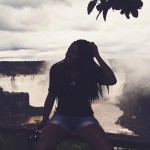 In an amazing conversation with my dear friend, Justin Michael Williams, it was decided this page, this movement, this thing, had to happen.
At the intersection of my love for travel, writing, photography, and making new friends is Passport Required, and at this intersection, I want to bring others along to plant seeds and build beautiful things. The most exciting piece of it all, at least for me, is showing the world as I see it, up close and personal.
We exist to talk about the places we must see, the foods we must try, the people we should find when we arrive, and the amazing or awful time we had. We exist to make this world smaller, better, and more delicious.
But first things first: where's your passport?